Registrations are now CLOSED for all 3 schools! Please try again next year if you missed the opportunity. For those who made it on the teams, CONGRATS! Let the games begin!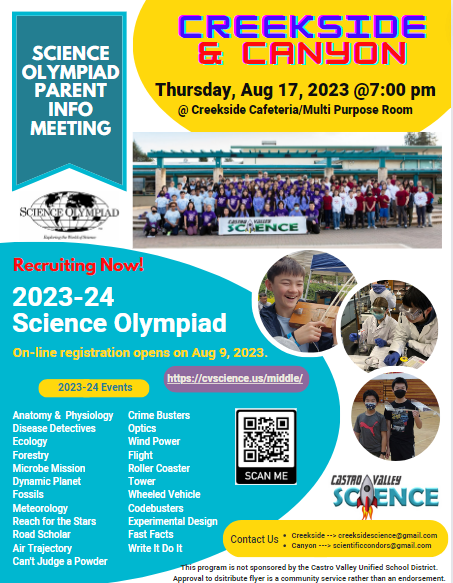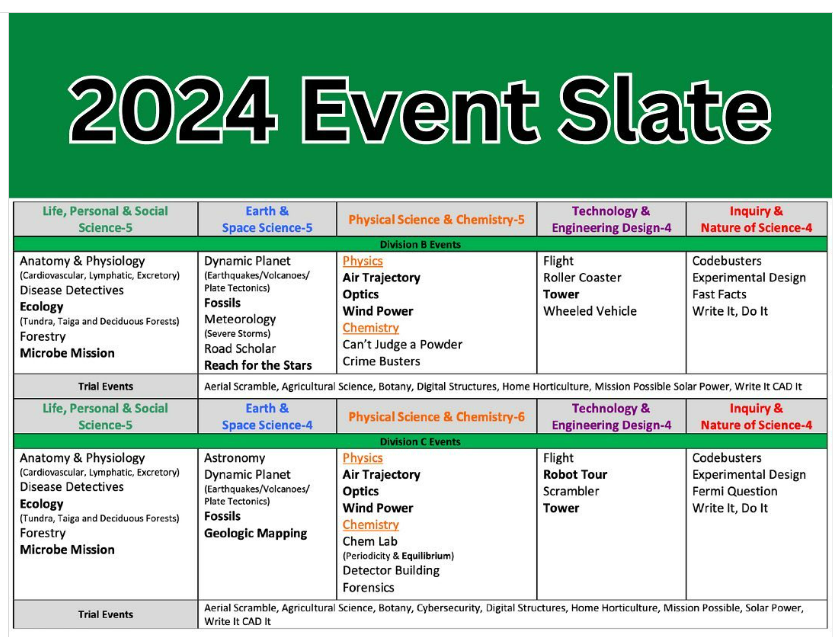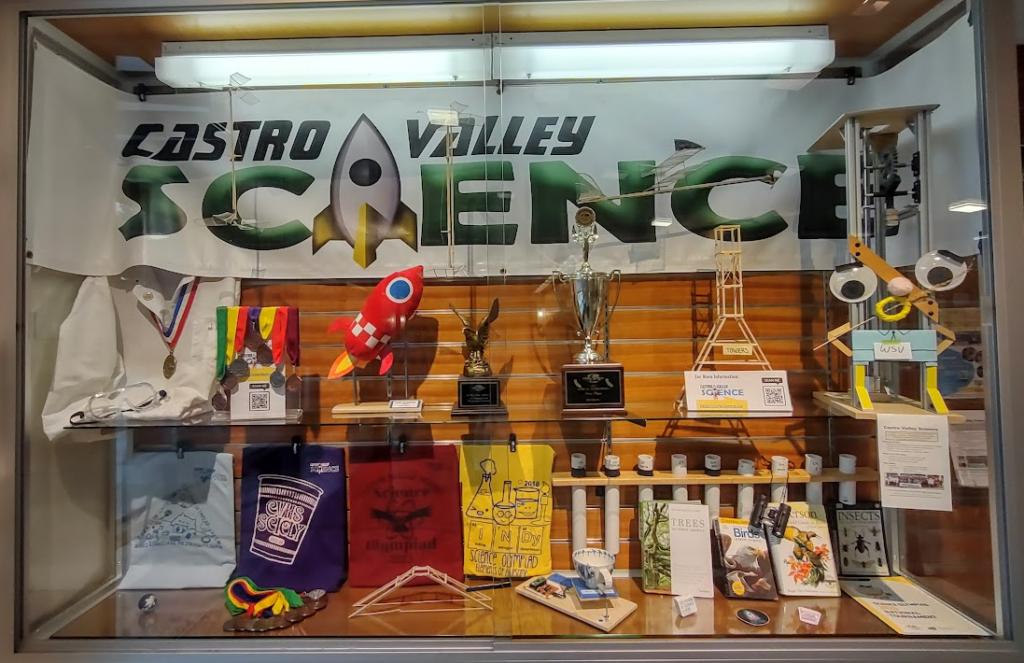 Congrats CVHS, 7th at Nationals!
Castro Valley High School Science Olympiad team placed 7th out of 60 teams, representing Northern California at the National Science Olympiad Tournament in Wichita, KS (May 20, 2023).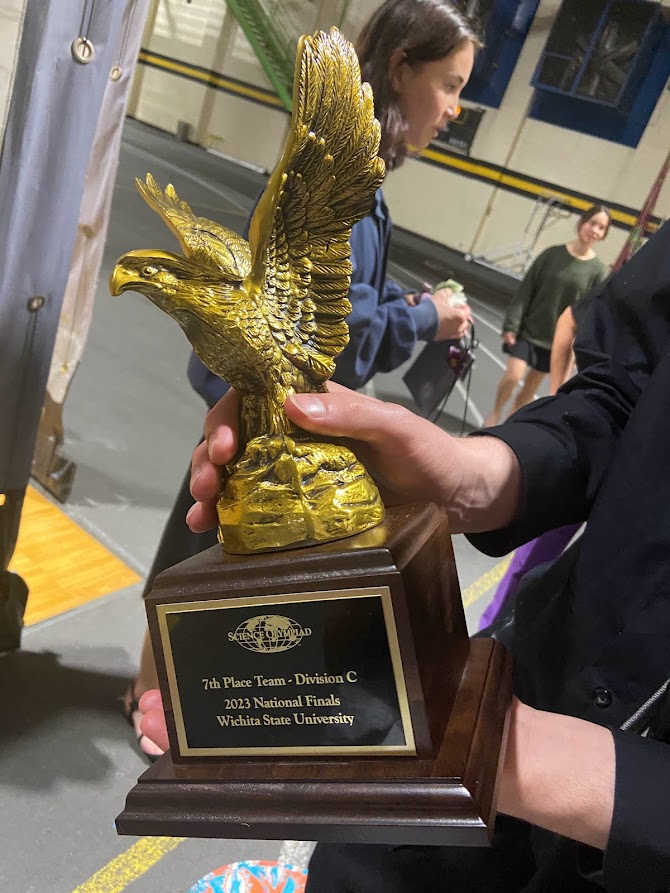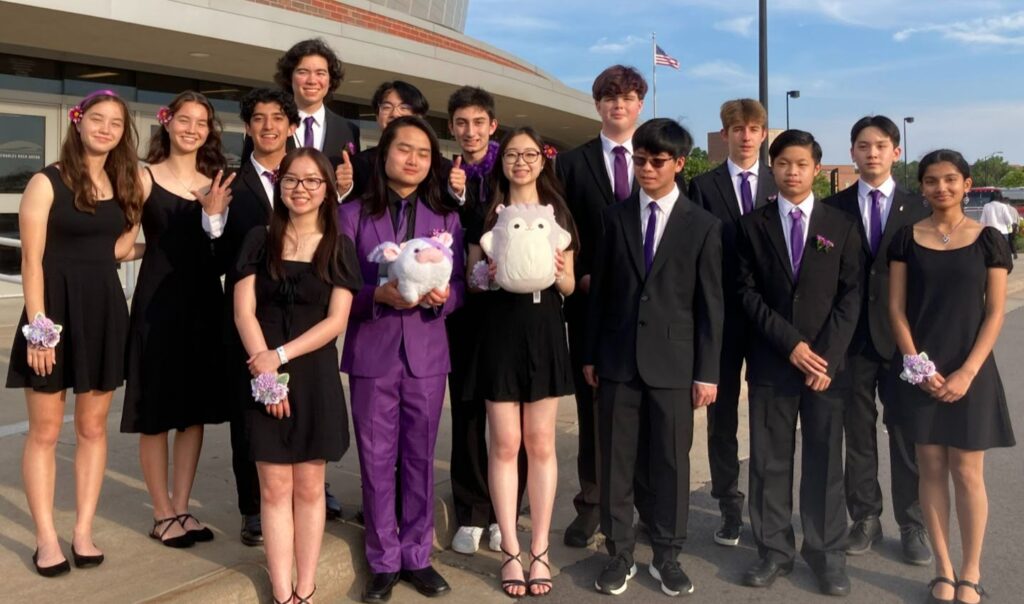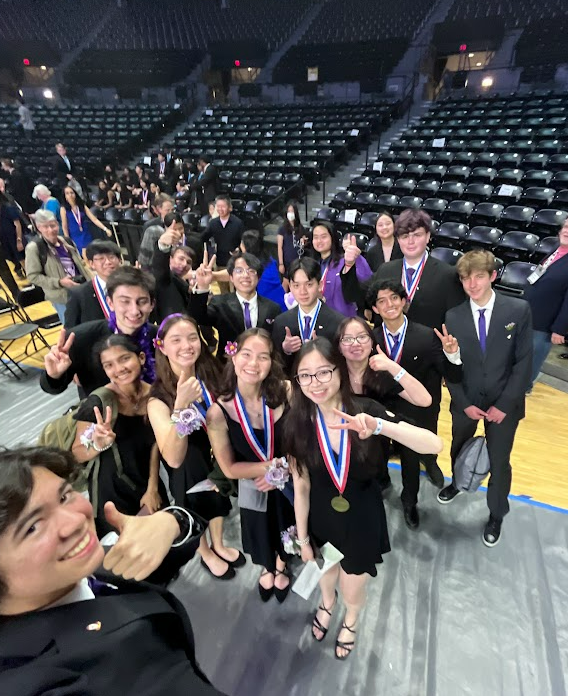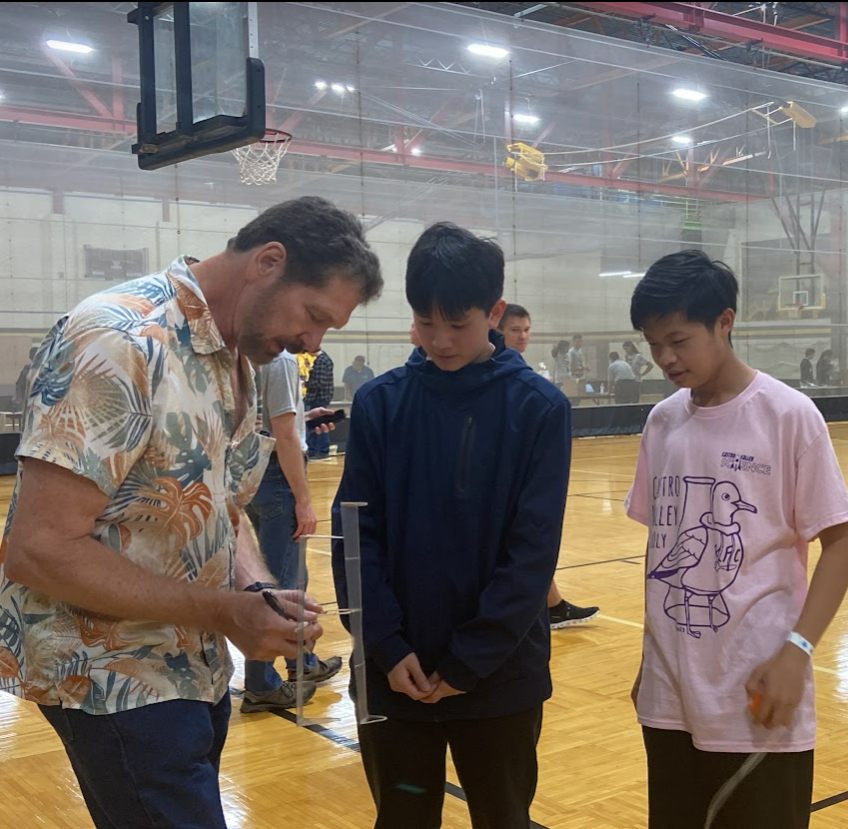 Support our science programs in Castro Valley! This year, we fostered 4 middle school teams in Canyon & Creekside MS and 4 high school teams, we hosted the Bay Area Elementary School Science Olympiad and we host science talks in Castro Valley. DONATE HERE !
---
Congratulations to CVHS Science Olympiad, NorCal State Champions (Apr 22)!
To the surprise of many, Castro Valley beat out the 2nd place National team to win the 2023 NorCal State Tournament, advancing us to the National Science Olympiad Tournament at Wichita State University! Now we have lots of unexpected logistics and much more studying to do, but we're prepared to work harder than ever. Thank you to the other NorCal/Bay Area Science Olympiad teams for all your support; we won't let you down!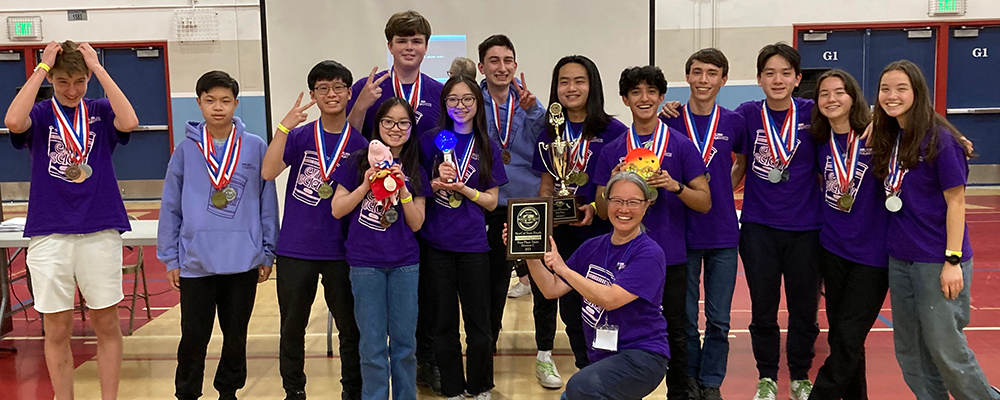 Congrats to all the participants at our first Bay Area Elementary Regional Science Olympiad!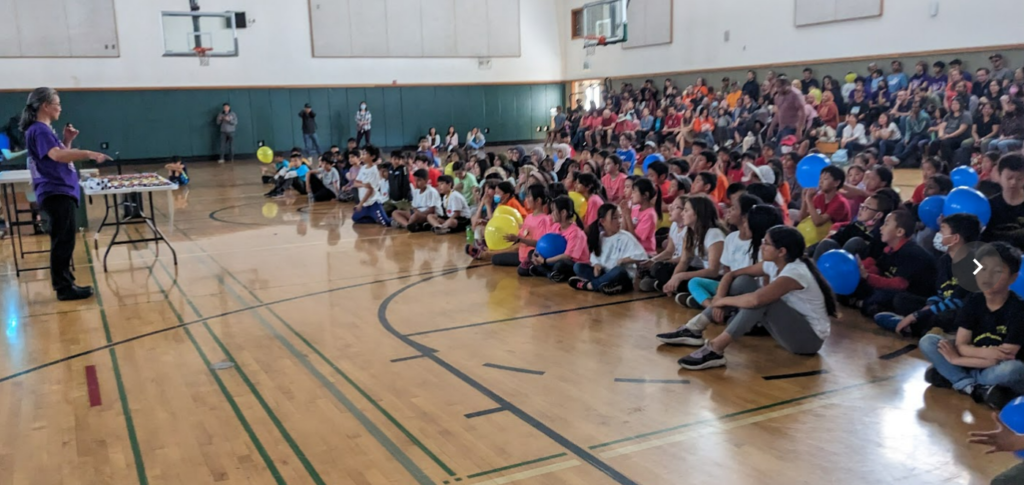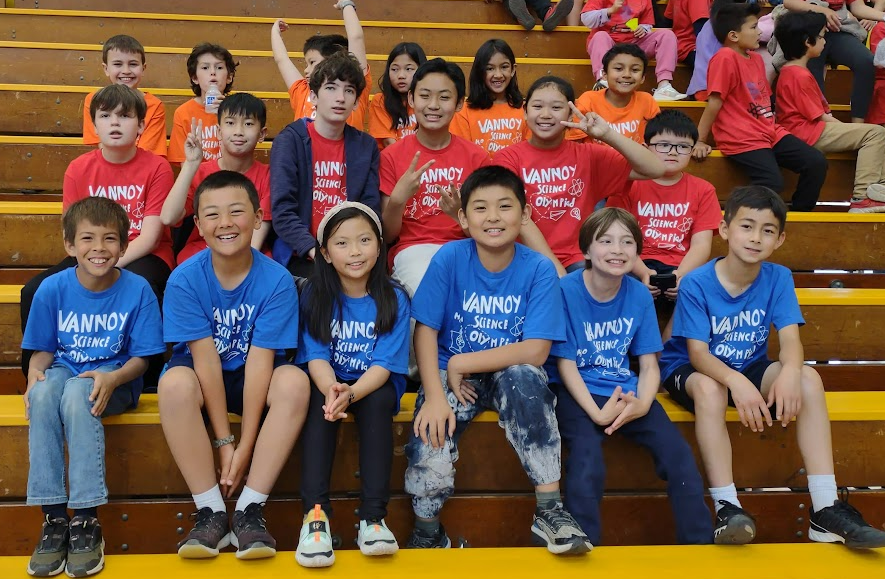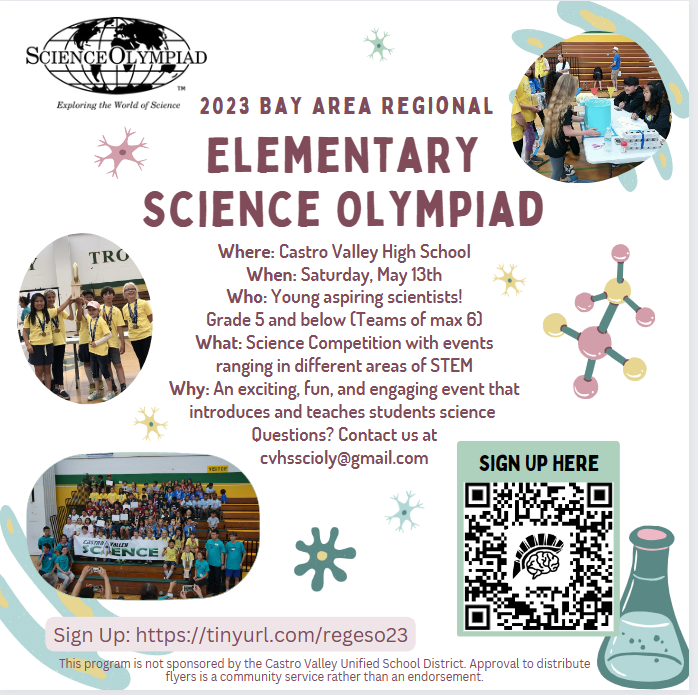 Congratulations CVHS Science Olympiad – Division C Champions!
Creekside and Canyon Middle Schools: 3rd and 4th in Division B
All 3 schools are going to State Championship on April 22, 2023! Congrats!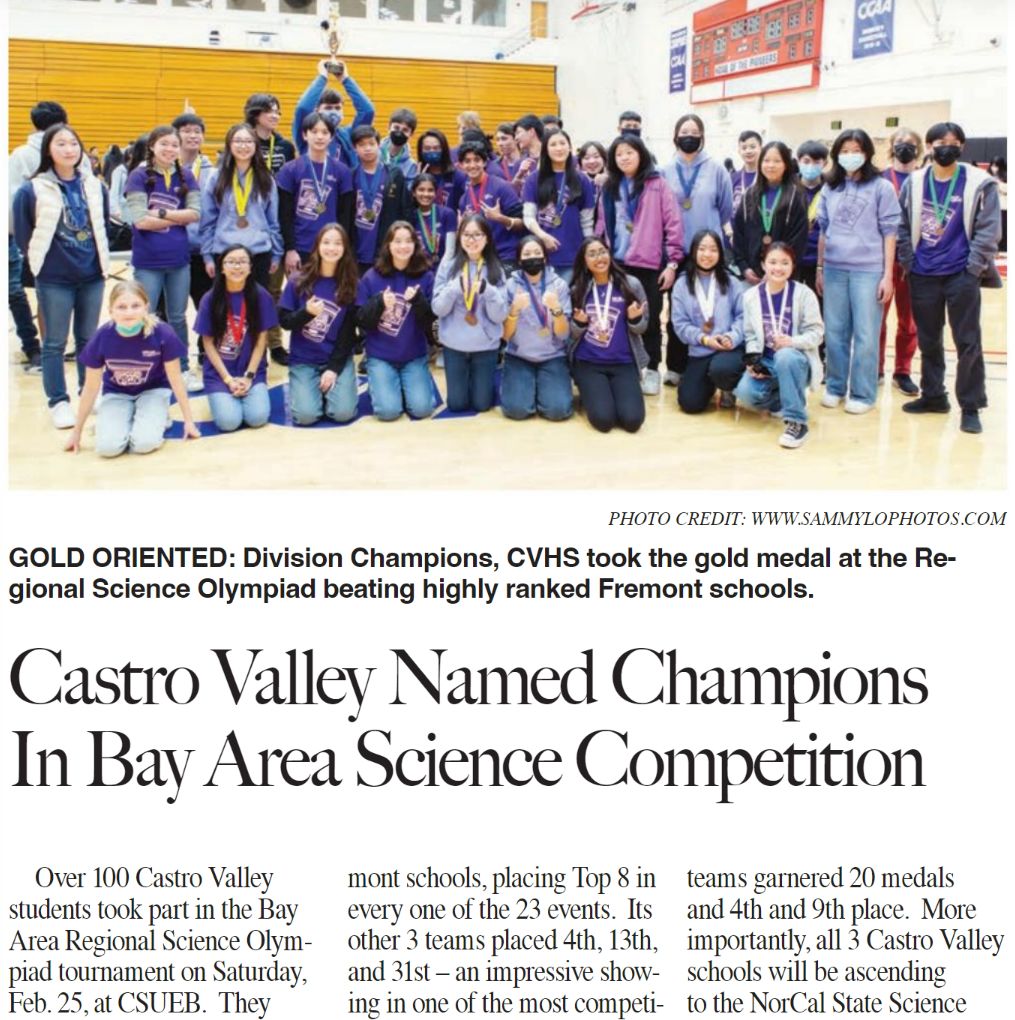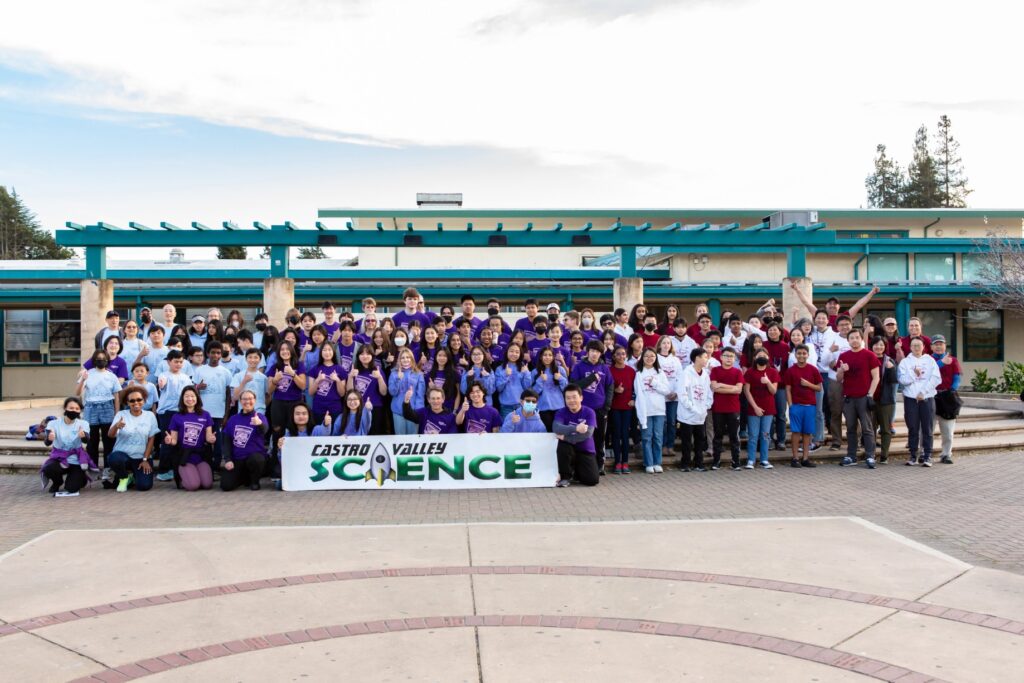 Congrats to All the Castro Valley Schools!
Creekside, Canyon and Castro Valley High
2023 was a year to remember!
Scholarship winners – Justin, Lauren and Kaitlyn
CVHS Head Coaches – Kathy & Eric Yao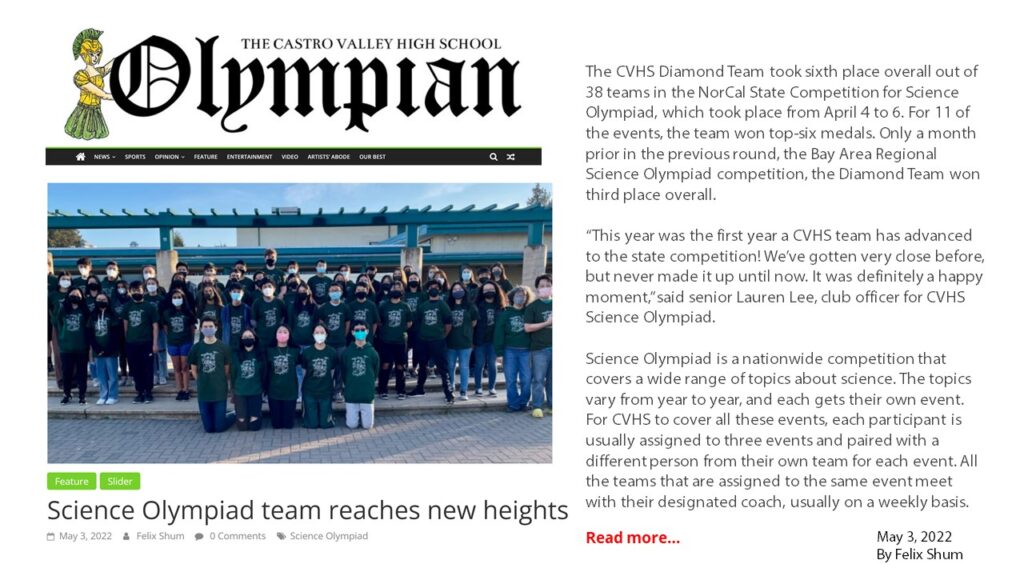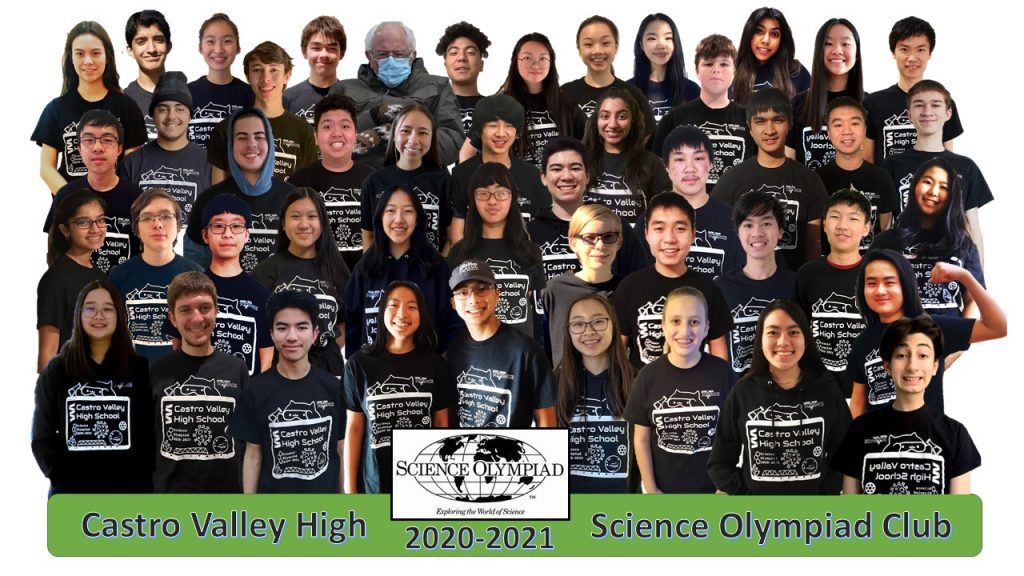 ---

Please join the mailing list to stay apprised of Science Olympiad news:


Science Olympiad Mailing List
____________________________________________________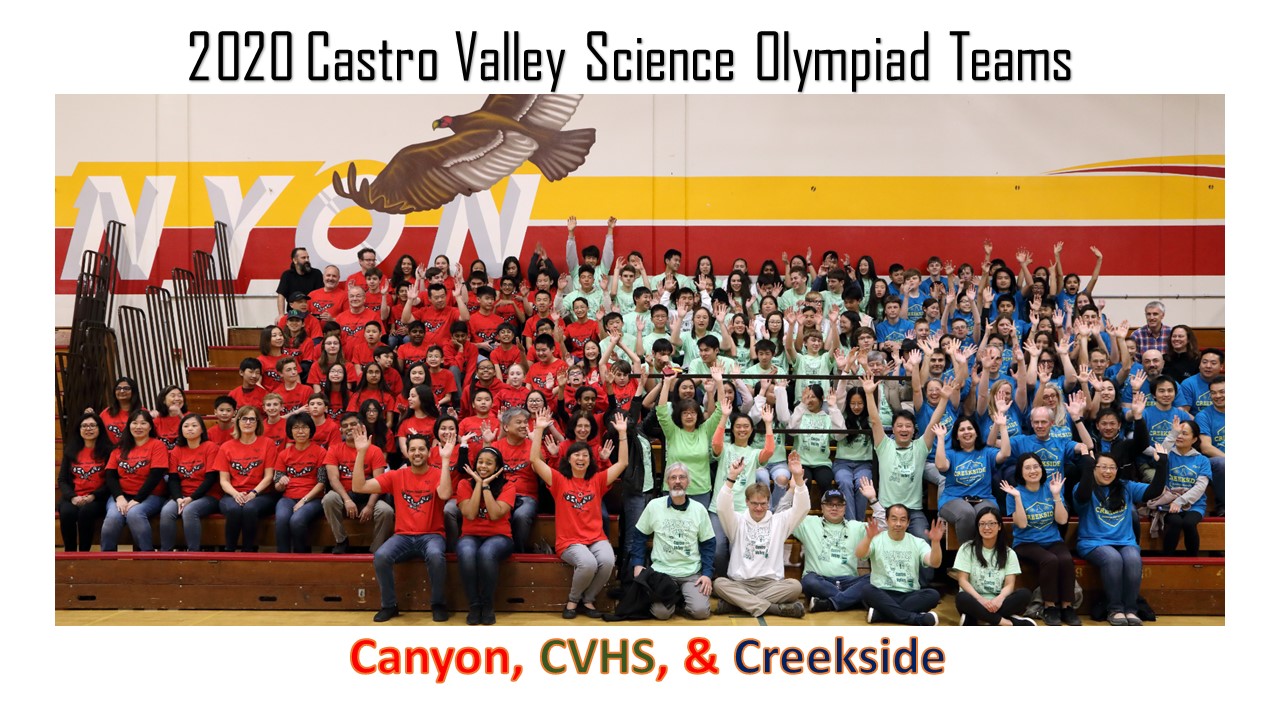 __________________________________________________
Castro Valley Science Scholarship Winners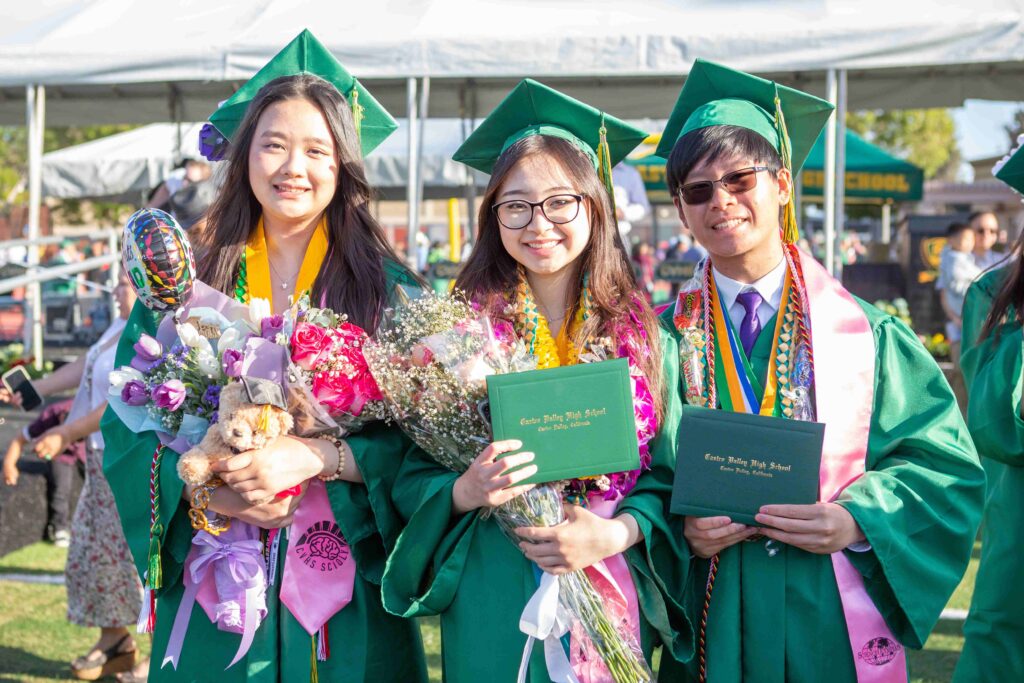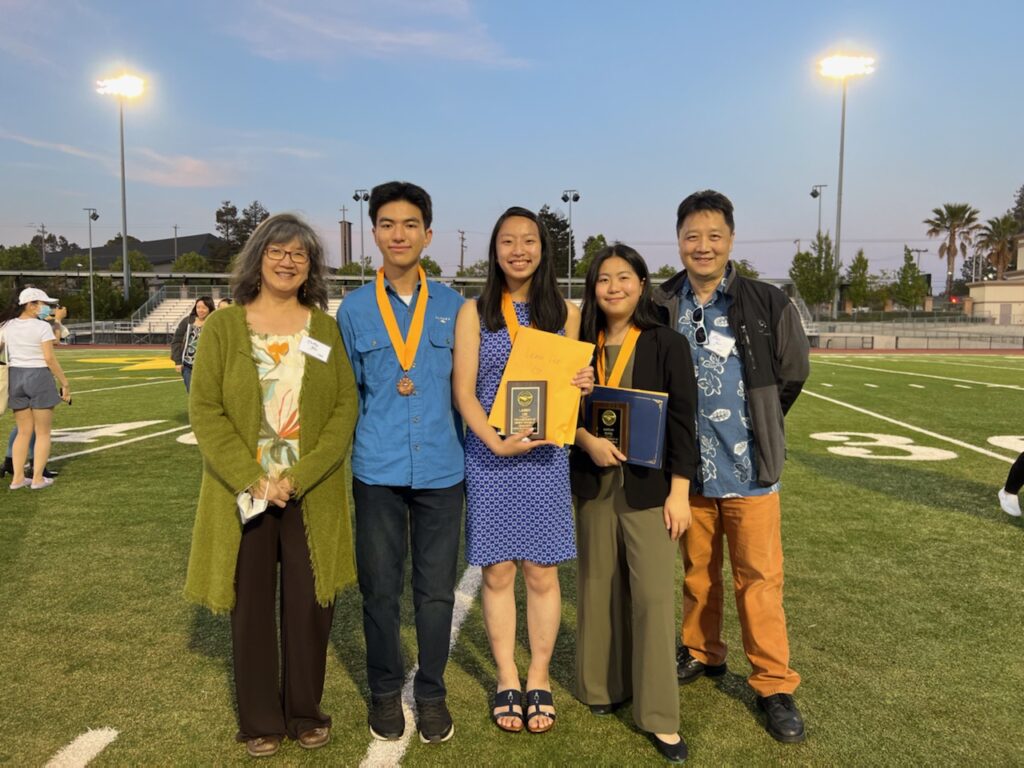 20221-22 Scholarship winners – Justin, Lauren and Kaitlyn
CVHS Head Coaches – Kathy & Eric Yao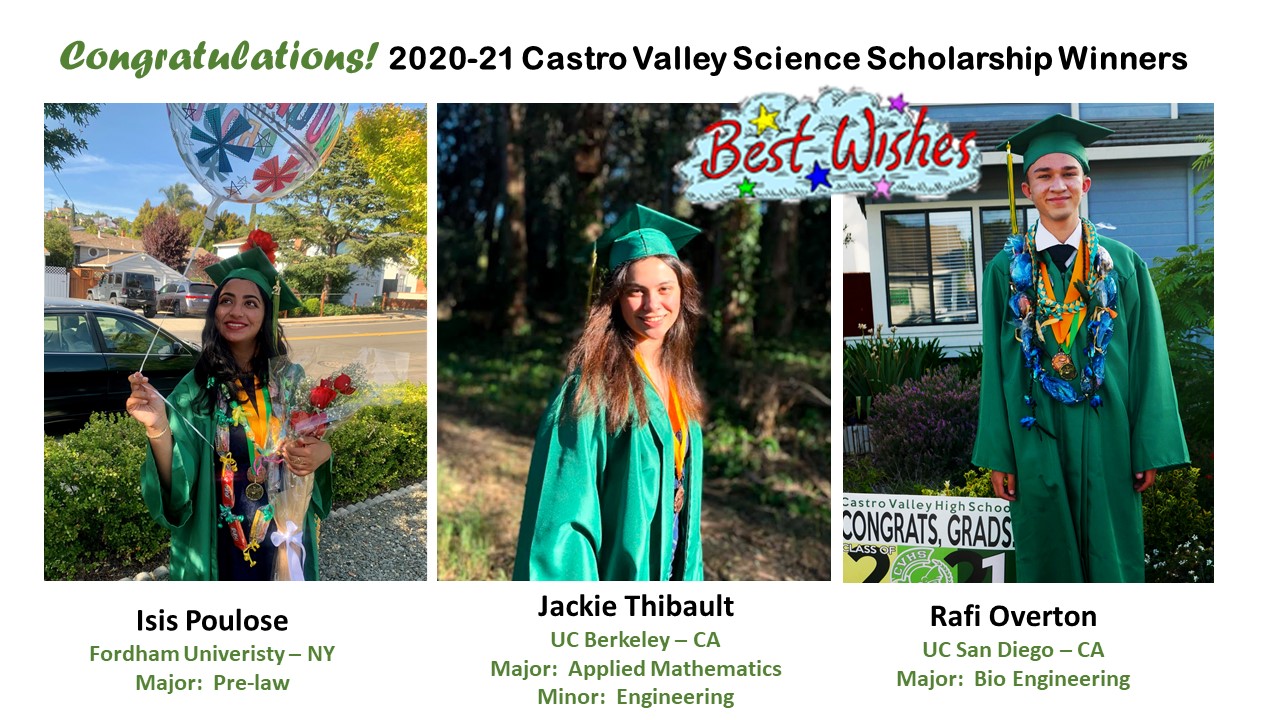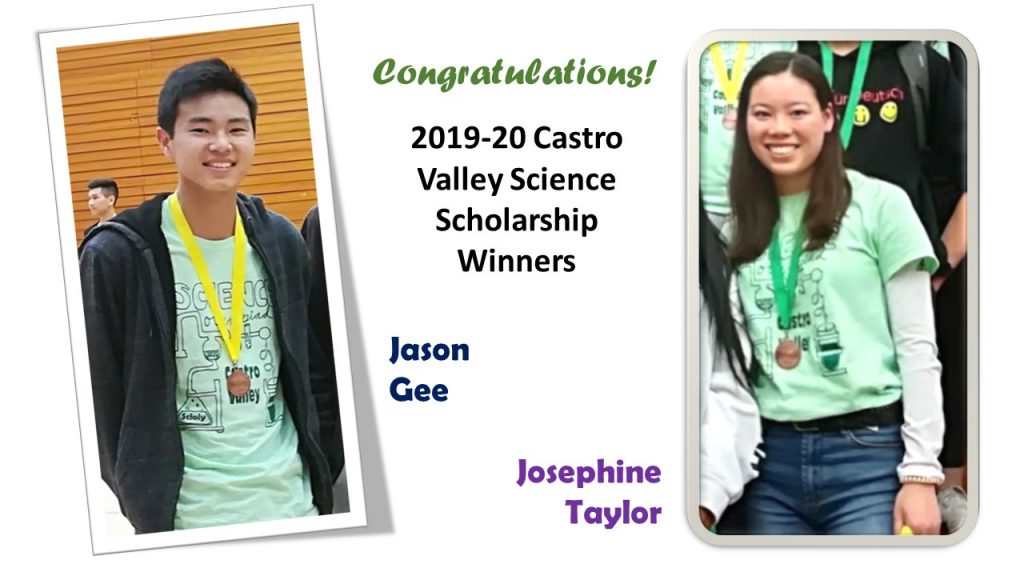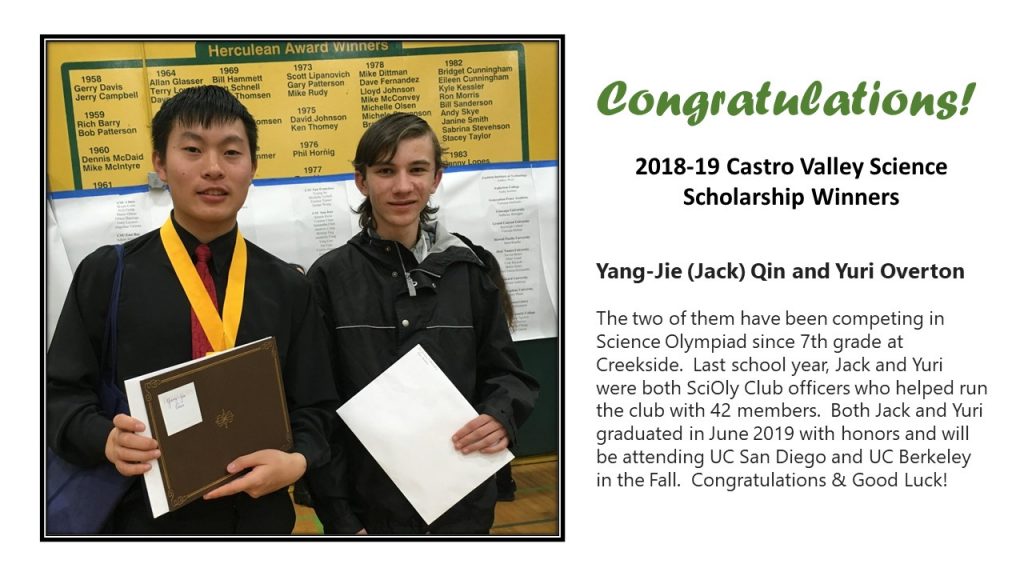 Help us make science epic in Castro Valley!


Donate
__________________________
SCIENCE OLYMPIAD is a premier national science competition, providing rigorous, standards-based challenges to 7,600 teams in 50 states. Science Olympiad's ever-changing line-up of events in all STEM disciplines exposes students to practicing scientists and career choices, and energizes them with a dynamic content experience.
Science Olympiad is sports for the mind. Kids "practice" for months for a regional competition in the spring, with the hopes to "make it to the state and national competitions," just like the athletes in school.
Students are challenged with STEM projects at a competitive level, thinking out of the box to come up with creative solutions. Students work together in teams, coached by parent coaches, some of whom are scientist and engineers. They develop a proud sense of accomplishment in knowledge acquisition and challenging build skills.
---

Official Science Olympiad Links:
We are independent program run by parents and not affiliated with the Castro Valley Unified School District.